James W. Doyle - Percussionist, Educator, and Collaborator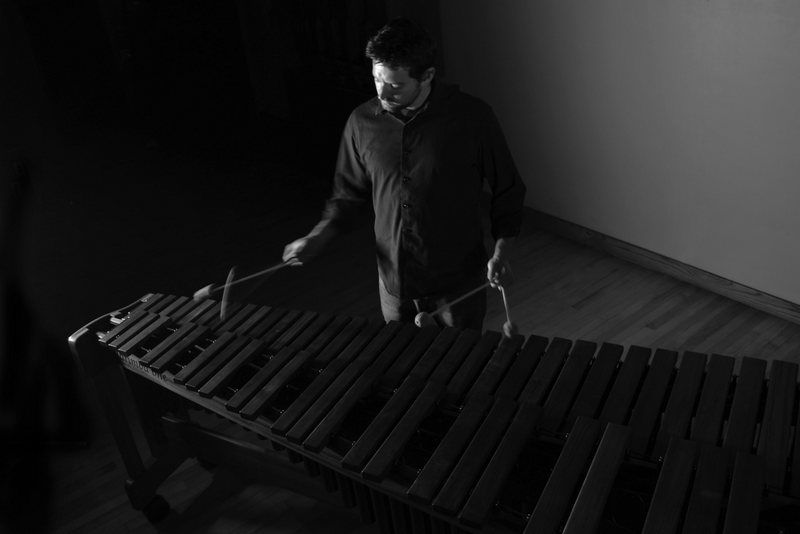 James W. Doyle is a percussionist, educator, and collaborative artist based in the Pacific Northwest. He presently serves on the faculty at the University of Puget Sound, on the graduate faculty at Adams State University, and is co-owner and creative manager of Pacific Edge Multimedia. He recently joined the Seattle-based contemporary percussion and multimedia group, Striking Music, and maintains a performance schedule throughout the PNW and Rocky Mountain regions.
James is excited to introduce his newest endeavor, Miscellany Music, in the fall of 2022. Miscellany forges artistic collaborations through the curation of solo and chamber percussion-forward concerts, in unconventional venues, and in collaboration with moving image, food and beverage, light/sound design, visual/physical arts, poetry/spoken word, nature, and movement.
Prior to moving to the Pacific Northwest, James served for 15 years as Professor of Music at Adams State University where he taught courses in percussion, world music, music business, and music education. In addition, he directed the percussion ensemble, steel pan, Brazilian, and jazz ensembles, and founded the Music of the Americas Project—an ensemble dedicated to exploring the evolution and synthesis of music resulting from colonialism and forced migration to the Western Hemisphere.
As a classical, contemporary, commercial, and jazz artist, James has performed throughout North America, Europe, Australia, Africa, and Asia, and has performed and presented at several Percussive Arts Society International Conventions. He's recorded over 40 albums for Austin, Nashville, and Southwest-based commercial artists, and performs as a contemporary chamber musician and soloist in the U.S. and Japan. His research areas include chamber music settings with silent film, commissioning new works for chamber percussion ensemble and unique chamber orchestration, the development of equitable pedagogy focused on inclusive excellence, and the lineage of music from throughout the world and its synthesis in popular and contemporary music. 
He currently serves as principal percussionist of the Music in the Mountains Festival Orchestra, principal percussionist with the San Juan Symphony, and performs with the Olympia Symphony Orchestra, the Seattle Collaborative Orchestra, the Lake Washington Symphony Orchestra, the Northwest Sinfonietta, the Vashon Opera, and the New Mexico Philharmonic. He annually tours with the Apricity Trio for flute, clarinet, and marimba and collaborates with sculptor Koshi Hayashi. Recent appearances include university residencies in the U.S. and Japan, performances in preeminent concert halls in Tokyo, salon concerts in the American Southwest, and performances at the Japanese international arts festival, the Nakanojo Biennale. The Apricity Trio's latest CD, "Sandhill Crane" was released in 2019 and includes commissioned works composed by Ippo Tsuboi.
James is a regular artist-in residence at Gunma University in Japan, has taught at the University of Nevada, Las Vegas, the Australia National Drum and Percussion Camp, the Ted Atkatz Percussion Seminar, Western Colorado University, Blue Lake Fine Arts Camp, and has done residencies at more than 50 universities and conservatories. He was a member of the Percussive Arts Society University Pedagogy Committee and Drum Set Committee, and has several articles published in Percussive Notes, the official journal of the Percussive Arts Society.
Prior to his positions in higher education, James served as principal percussionist with the United States Air Force Band of the Golden West where he spent six years touring, recording, and performing throughout the United States while maintaining an active freelancing schedule in the San Francisco Bay area. He then served six years with the Air National Guard Band of the Southwest in Fort Worth, TX, and the US Air Forces Central Command Band in Doha, Qatar. Preceding his military service, James was a member of the Baton Rouge Symphony Orchestra and freelanced in the Gulf Coast region. 
James earned a Doctor of Musical Arts in Percussion Performance from the University of Nevada, Las Vegas, a Master of Music in Percussion Performance from Louisiana State University, and a Bachelor of Music Education from the University of Central Missouri. He is a Marimba One, Black Swamp Percussion, Beetle Percussion, and Vic Firth product endorser, artist, and educator.