Apricity Trio
From the Latin aprīcitās, meaning "warmed by the sun"
or
"The Warmth of the Sun in Winter"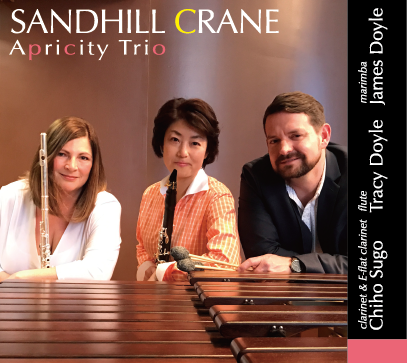 Apricity Trio is a U.S. and Japanese-based trio for flute, clarinet, and percussion. With roots dating to their shared time in graduate school in the late 1990's, Tracy, Chiho, and James reconnected in 2015 as a unique ensemble with concerts and residencies in Japan and the U.S. every year since. Often collaborating with sculpturist Koshi Hayashi, pianist Kiki Kashiwagi, and composer Ippo Tsuboi, the Apricity Trio is dedicated to performing programmatic works reflective of the austere nature of the Rocky Mountains and the minimalist and ancient beauty of Japan.
The respective cultures and mutual friendship of the three musicians is uniquely combined in collaborative, harmonious, and multimedia settings. Be it the concert halls of Tokyo, salon concerts throughout the Southwestern U.S., forested venues for arts festivals amongst sculptures in the mountains of Japan, or in faculty exchange concerts at Gunma University, Japan, and Adams State University, Colorado, Apricity Trio maintains a light-hearted, flexible, and accessible repertoire for all audiences. 
They released their first CD titled Sandhill Crane in December 2018, with works by Ippo Tsuboi, Daniel Dorff, Jean Rivier, Valerie Naranjo, Robert Muczynski, Jenni Brandon, and Bill Douglas.
Contact James Doyle to Purchase Sandhill Crane
The Musicians
Tracy Doyle, flute
Dr. Tracy Doyle serves as Professor of Music at Adams State University where she teaches applied flute, chamber music, and courses in music education. Dr. Doyle is piccoloist with the San Juan Symphony, and has performed throughout the United States, Japan, and Australia as a soloist, chamber, and orchestral musician. In addition to leading an engaged and vital collegiate flute studio consisting of students from throughout the United States, Dr. Doyle is the Director of the Master of Arts in Music Education program at Adams State University and a dedicated and passionate advocate for music education. She has been a recipient of the ASU Presidential Teaching Award. Dr. Doyle earned a Doctor of Musical Arts degree in flute performance from Louisiana State University in Baton Rouge, and her Bachelor of Music and Master of Music degrees in music education from the University of Massachusetts at Amherst.
Chiho Sugo, clarinet
Chiho Sugo is Associate Professor of Clarinet at Gunma University, Japan where she teaches applied clarinet and wind instruments as well as music education courses, including Japanese Traditional Instruments, Basic Conducting and Elementary Music Education. As an active clarinetist, she gives chamber recitals regularly in and around Tokyo. Her first CD, "Regenlied," (2014) includes Brahms' Violin Sonata played on E-flat clarinet. Her E-flat clarinet solo was well received on tour with the Tokyo Clarinet Choir to Vienna in 2007, Clarimania2016 in Poland, and the Texas Clarinet Colloquium 2017. She earned a Master of Music at Morehead State University, and completed Doctoral coursework at Louisiana State University. She studied clarinet with Steve Cohen, Michael Acord, Ikuo Inagaki, Sugako Sudo, and Takafumi Komatsu, and is a member of International Clarinet Association, Japan Clarinet Association, and Tokyo Clarinet Choir. She was an Artist-in-Residence at Adams State University in the Fall 2016.
James Doyle, marimba and percussion
Dr. James W. Doyle serves as Associate Professor of Music at Adams State University, where he teaches applied percussion, courses in commercial music, and directs the contemporary percussion ensemble, samba, steel, and marimba band. He is principal percussionist of the San Juan Symphony and the Music in the Mountains Festival Orchestra and has performed throughout North America, Europe, Australia, Africa, and Asia. He's recorded over 30 albums and frequently collaborates with commercial, classical, and multimedia artists throughout the U.S. Previously, James served as principal percussionist with the United States Air Force Band of the Golden West, and related US Air Force Bands. James has taught at the University of Nevada, Las Vegas, and residencies at over 40 universities and conservatories. James earned a Doctor of Musical Arts from the University of Nevada, Las Vegas, a Master of Music in Percussion Performance from Louisiana State University, and a Bachelor of Music Education from the University of Central Missouri.