If you see a problem, engage to find solutions.
A few months ago, I was casually perusing social media over my morning coffee. It was the height of the fall semester "concert season" in academia and numerous concert programs were being posted by directors of percussion ensembles, wind bands, and the like.
A quick calculation of the composers represented—38. Of those composers, 38 were male. Of the 38, 37 were white males.
Did this come as a surprise?
An examination of Steve Weiss's catalogue of percussion ensemble repertoire, listed by popularity, will show the vast majority of composers listed fall into the category of works by white male composers. The reasons for this are immense and worthy of debate. I will get into the "why" in the future, but for now, wish to share the process I experienced over this past summer.
While considering my percussion ensemble programming for the 2017-2018 academic year, I spent significant time searching, and I truly mean SEARCHING for repertoire written specifically by women composers.
It was difficult.
Yes, there are known works by Keiko Abe, a handful of works by a variety of percussionists/composers, and the historically significant works by Johanna Beyer. However, my typical resources for programming were turning up fewer results than I imagined.
Digging deeper was a definite necessity.
I took the search to social media—specifically Twitter—to follow composers unknown to me. I reached out to friends and colleagues for suggestions. I went down the internet rabbit hole perusing countless composer websites looking for self-published works.
When I did find something and reached out to the composer, to the person, everyone was wonderful about sharing perusal scores and when available, recordings. There it was. Self-published scores and independent publishers is where it's at.
At that moment, I decided to program my fall concert with works written solely by composers who happen to identify as women.
If you see a problem, engage to find solutions.
I wanted to program something historically significant, something from an emerging composer, a student composer, and as always, works addressing the other considerations necessary in a university. I needed to balance the educational learning outcomes of my ensemble, personnel availability, rehearsal schedules, instruments in our inventory, concert flow, and set changes.
Essentially, I needed to find a plethora of repertoire, so we would have options to choose from.
Here's the program we gave in November:
Round for Three Muses by Andrea Clearfield
Chou Xi by Li Tao
Settle by Sarah Hennies
Mystification by Miranda Johnson
Taxidermy by Caroline Shaw
March for 30 Percussion Instruments and Percussion Opus 14 by Johanna Beyer
Here's a link to the program notes:
http://www.jameswdoyle.com/blognews/
The morning I woke up to 38 out of 38 works by male composers in my news feed led me to start a database of the works I discovered in my research. To date, there are 77 works by women composers listed and there will surely be many more. It's my hope the list will be shared, added to, and influence others to consider how they program.
PLEASE SHARE AWAY AND ADD!
Database of Women Composers of Percussion Ensemble Repertoire
So what was the impact beyond a database of composers and a single program?
For my students and I, it's created a discussion and new initiatives.
We debated the finer points of how to market the concert program—do we draw attention to the unfortunate uniqueness of the program or normalize it by letting the program happen as is?
How does the awareness of our repertoire being primarily dominated by white male composers impact future programming in the ensemble and solo recital repertoire?
What's our role in moving forward the music of underrepresented composers?
What does it mean to be inclusive?
For example, this past Friday in studio class, we discussed what it means to perform someone's work who's a known anti-feminist. This led to discussions about performing works by known racists, homophobes, etc. My students engaged in a beautiful and insightful discussion. Professional. Thoughtful. Well-informed.
We discussed the often uttered statement "good music is good music regardless of race or gender." Can we add value to an already valuable experience?
What does it mean to champion someone's music and how powerful of a role do we play when programming?
There's much more to write on these topics and I intend to. For today, however, I hope readers will consider their programming. Take a moment to look back at your programming. Take a moment to consider what thought processes you use. Consider the impact your programming has on others.
Be it a solo recital, chamber ensemble, or large ensemble. What does your programming say about your ethos? Can you dig deeper into the music for your art form, question what is "standard repertoire," and how it became so?
To put it simply, consider the equity of your programming and the impact you make. Make a difference for you, your audience, and composers who deserve to be programmed. And if you're an educator, the impact on your students is of the utmost importance.
For me, I believe I have an obligation to my students, the art form I love, and the future of chamber percussion music. I'll constantly seek good music wherever it may be...which is often not on the first page of a Google search. I'll ensure the programming of underrepresented composers. I'll advocate for and commission works by great composers who are marginalized by centuries of precedent. And most importantly, I'll be sure these discussions continue amongst my students as a core of our studio ethos.
What do you think? How do you program? What are your considerations?
Please share your thoughts!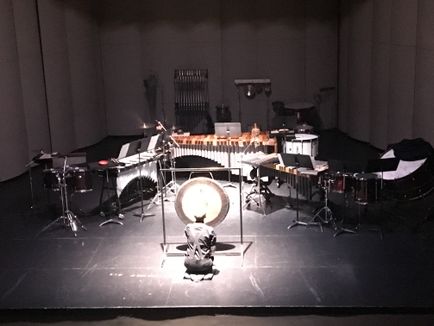 And here's the live stream from our November concert. The music speaks for itself:
Adams State University Fall Percussion Extravaganza LiveStream