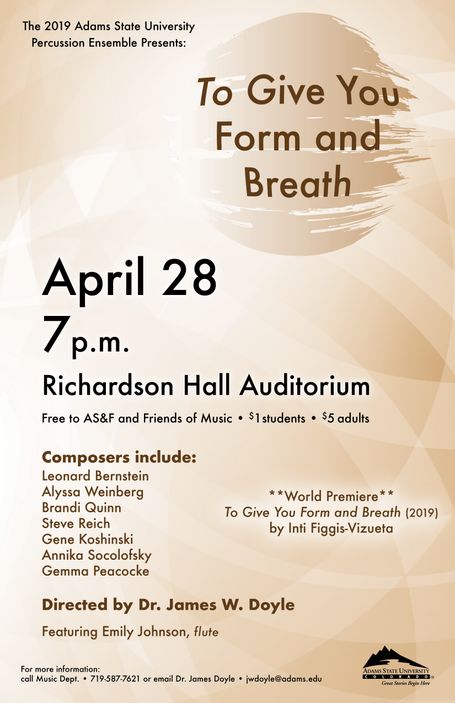 Director's Note:
The Spring 2019 academic semester began with a percussion ensemble clinic/performance at the Colorado Music Educators Association Conference (CMEA) at the Broadmoor in Colorado Springs on the topic of portable "backpack" percussion works. The students on stage this evening are composing a collection of beginner to intermediate works for portable percussion to be available this summer. This project is for directors and students to have affordable and accessible means for chamber music development.
In addition to tonight's performance, the musicians you're hearing gave more than ten performances throughout the community as part of our outreach chamber ensemble program. We also heard Kevin Johnson's senior recital and Delaney Armstrong's junior recital this spring—both outstanding in their own right. We will conclude our spring performance schedule with Emily Johnson's senior recital in two weeks, a recording session of tonight's repertoire, and eight "backpack percussion" concerts in the Four Corners region on behalf of the Music in the Mountains Festival in the week following final exams.
Tonight's repertoire is a sampling of the music we've performed since January and this program was curated as an example of exciting works by outstanding composers who've stretched what's considered the "standard repertoire." The oldest piece we'll perform is Steve Reich's Music for Pieces of Wood by Steve Reich, written in 1973 with Leonard Bernstein's Halil in close proximity with a composition date of 1981.
Most exciting for the ensemble was the commissioning project we undertook with two outstanding composers—inti figgis-vizueta and Molly Herron. Tonight's performance will feature the world premiere of figgis-vizueta's To Give You Form and Breath and we will premiere Herron's work in the Fall academic semester. It's been a truly unique and special experience for the students to work on all facets of the commissioning process and have the opportunity to interact with such gifted and progressive composers.
Tonight's Program:
Leonard Bernstein (1918-1990), was one of America's greatest composers, conductors, writers, educators, pianists, and television personalities. Known for works such as West Side Story and On the Waterfront, Bernstein wrote prolifically for percussion in the orchestra, but never wrote for solo or chamber percussion.
Halil (1981) was composed by Bernstein in honor and memory of a young Israeli flutist, Yadin Tanenbaum, who was killed in the Yom Kippur War. It was originally composed for solo flute and chamber orchestra but has since been adapted to be performed with a percussion ensemble of standard orchestral percussion instruments. Bernstein writes, "…it is like much of my music in its struggle between tonal and non-tonal forces. In this case, I sense that struggle as involving wars and the threat of wars, the overwhelming desire to live, and the consolations of art, love and the hope for peace."
Emily Johnson divided her time at Adams State as a flutist, percussionist, light and sound designer, and project manager and we are pleased to present her as guest flute soloist this evening. Upon graduation, Emily will assume the full-time position of Operations Manager of the Music in the Mountains in Durango, Colorado. We are also grateful to be joined by collaborative pianist Becky Hand. Emily will give her final flute recital on May 10th, featuring works for flute and percussion, flute and electronics, and an encore performance of Halil.
Brooklyn, New York-based Alyssa Weinberg composed Ember (2018) through a commission consortium by the New Works for Percussion Project. I recently joined the board of this fine organization and am a co-commissioner of Ember, a new work by Juri Seo, and a work in progress by Molly Joyce. The New Works for Percussion Project seeks to make commissioning new works for percussion affordable, collaborative, communal, and inclusive, to include portable set ups of instruments. Ember utilizes a unique instrumentation, focused around two inverted snare drums with crotales, coins, and a single glockenspiel note on each drum, with two almglocken (tuned cowbells), a prayer bowl, and a metal mixing bowl shared between performers. We use brass banjo picks for the middle section of the work and seek to explore the rich colors and textures available with this combination of instruments.
Adams State music composition major Brandi Quinn wrote Phonophobia (2019) in an effort to develop her knowledge of writing for the percussive medium. She says this about her piece:
The constant rim-clicks between the snare and toms represent a metronome click. The addition of auxiliary percussion adds another layer of depth that the piece seemed to need. The challenge of this piece was the fact that there is no melodic instrument so I had to find a way to make it interesting without boring the audience. The use of dynamics and meter changes is integral in making this happen.
Quinn is a composition student of Dr. Matthew Schildt and a trumpet student of Dr. Angela Winter.
We are please to present the World Premiere of To Give you Form and Breath (2019) by inti figgis-vizueta. This fascinating work for resonant and non-resonant metals, wood, and glass bottles was commissioned by the Adams State Percussion Studio for tonight's concert. The work demands much of the performers in the way of metric modulations, phasing, gestural improvisation, and chamber music skills in that the work constantly evolves from pattern to pattern with the musicians aligning and falling out of alignment by design.
figgis-vizueta says this about their work:
Inspired by the poetry of Joy Harjo, this piece centers around creation stories and their central nature to indigenous identity. Much of native belief and collective knowledge stem from oral traditions and the lens they provide is core to our understanding of the world and the spirits that live with us. To give you form and breath seeks to channel portions of that understanding through the use of 'ground' objects and manipulations of rhythm as manipulations of time.The piece acts as one of these stories, perhaps to a people already long forgotten.
inti figgis-vizueta (they/them) is a queer Andinx experimental composer based in Brooklyn, NY. They write identity-focused musics, often channeling storytelling and the manifestation of non-hegemonic voices in concert spaces. inti works to create transparent, self-contained musical processes through which melodic and timbreal interaction blooms and consumes itself. inti studied with Felipe Lara.
inti has received numerous awards, most recently the 2019 Hildegard Competition from National Sawdust, the 2019 Underwood New Music Readings featuring the American Composer's Orchestra, and the 2019 Mizzou International Composer's Festival featuring Alarm Will Sound. They've won calls for scores for organizations & festivals such as West Cork Chamber Music Festival, Verdant Vibes, N/A Ensemble, UnTwelve, Baltimore Choral Arts, and 113 Collective. Their music has also been played by ensembles such as loadbang, PUBLIQuartet, Hypercube, RTE Contempo String Quartet, and Balance Campaign as well as the Shenandoah Valley Youth Orchestra and SJSU Wind Ensemble. They were featured at the New Music Gathering as a panelist in 2017 and as a featured composer in 2018 as well as at the New Latin Wave Festival 2018, curated by Angélica Negrón. inti actively freelances with recent commissions including clarinetist Gleb Kanasevich, trumpeter Kate Amrine, countertenor Luke Paulino, and the duo Mazumal (Felicia Chen & Olivia J. Harris).
When not composing, inti works as the Director of Inclusion at the Boulanger Initiative and as a curator for Score Follower.​
Music for Pieces of Wood (1973) is an early percussion work by Steve Reich and one of his most often performed compositions for percussion. In addition to being portable, Music for Pieces of Wood encompasses the standard characteristics of Reich's minimalist style, with repetitive rhythms, augmentation "build-ups," and in three diminishing sections. I first heard Music for Pieces of Wood performed by the legendary percussion group, NEXUS, and again soon thereafter by the composer's own ensemble, Steve Reich and Musicians. Reich continues to play a considerable role in the development of chamber percussion music and is often described as one of America's greatest living composers.
Composed for five percussionists, we've doubled the "Player 2" static rhythm part to involve the six performers who performed at CMEA and will perform on our "backpack percussion" tour. Reich intends for the wooden instruments to be specifically tuned claves. Ensemble member Alex Youngbird tuned six pieces of purple heart wood for our performance.
Projected above the performers is a photo series of the sculpture collection "Rin" by Japanese sculptor Koshi Hayashi. I've had the pleasure of performing Music for Pieces of Wood with Hayashi throughout Japan amongst his sculptures and am pleased to announce he will serve as an artist-in-residence at Adams State this September.
La Sirène (2010), or "The Mermaid" is a silent film by the French filmmaker Georges Méliès and was released in 1904. It's important to note silent film was never likely projected without live musical accompaniment. Since the inception of the motion picture, musicians have accompanied the onscreen action, typically using existing repertoire selected by the individual musicians in the movie house to suit the film. For smaller venues, a single pianist or organist often served as accompanist, with larger houses using orchestras and percussionists to provide additional sound effects. The musicians would watch the film and make musical decisions "in the moment," thus providing a different sonic experience with each showing.
Composer and percussionist Gene Koshinski set original music to La Sirène and was heavily influenced by Nigel Westlake's composition The Invisible Men. Westlake's work is an epic twelve-minute composition for percussion quartet accompanying the whimsical film Les Invisibles, produced by Pathé in 1906. Westlake's 1996 composition was the primary topic of my doctoral dissertation, with a chapter devoted to analyzing La Sirène. You can read the full document here: https://www.jameswdoyle.com/writings/
Koshinski and Westlake's works both include foley art (the art of matching sound to film), emphasizing the actions of the actor on screen and original thematic material—both of which would not have been present during the silent film era. To perform these works, each player uses headphones to align to a special click-track to keep all moments perfectly in time with the film without a need to watch the film for pacing.
The Dictionary of Obscure Sorrows: ambedo (2018) was first brought to my attention at the 2018 Percussive Arts Society International Convention where it was performed by both the Baylor and University of Tennessee percussion groups. I immediately made my way to the exhibit hall to purchase the work and meet the composer, Annika Socolofsky as the piece was moving in its emotional content and compositional depth. Subtle in nature, the performers utilize plastic banjo picks, bass bows, and mallets to bend pitches on the vibraphone.
Socolofsky says this about her work:
The concept for this piece comes from The Dictionary of Obscure Sorrows, a collection of words invented by John Koenig that "aims to fill a hole in the [English] language—to give a name to emotions we all might experience but don't yet have a word for." The title for this piece comes from the definition for "ambedo."
ambedo n. a kind of melancholic trance in which you become completely absorbed in vivid sensory details—raindrops skittering down a window, tall trees leaning in the wind, clouds of cream swirling in your coffee—which leads to a dawning awareness of the haunting fragility of life, a mood whose only known cure is the vuvuzela.
Read more of John Koenig's beautiful definitions at
dictionaryofobscuresorrows.com
Gemma Peacocke's marimba quartet, Death Wish (2017) is a breathtaking work and quickly becoming a favorite for professional and university percussion ensembles. Requiring extreme ensemble precision, attention to timbral detail, and unrelenting rhythmic drive, Death Wish is a musical tour de force for four performers on two marimbas with many mallets.
Peacocke says this about her work:
I wrote Death Wish after watching a short film featuring New Zealand survivors of sexual assault. One of the survivors, Hinewirangi Kohu-Morgan, spoke about the out-of-control spiralling of her life for many years and how she developed what she called a death wish. In the piece I thought about the spooling and unspooling of energy and how we are all bound and driven by forces both within and beyond ourselves.
With the greatest of respect for Hinewirangi Kohu-Morgan who has used her life to create art and music and to help survivors of abuse and those who have perpetrated abuse.
Tonight's pre and post-concert music is from Peacocke's latest album, Waves and Lines, released in 2019. We owe a great thank you to Peacocke for her assistance in researching and connecting us with the terrific composers we've commissioned for our ensemble and we look forward to performing more of her works for percussion.
---James W. Doyle